About The Teachers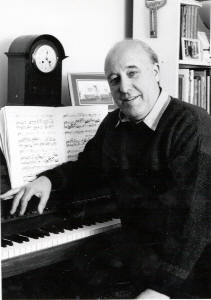 Alan Mayall MA(Cantab.)
Alan studied privately with Gladys Lack in London and subsequently at the London Opera School, under Joan Cross, and at the Vienna Academy of Music and Drama, where he held the Richard Tauber Memorial Scholarship of the Anglo-Austrian Music Society.
He was engaged as a principal lyric tenor at the Komische Oper, Berlin and subsequently at The Kleine Oper in West Berlin, at Sadlers Wells in London and at the Stadttheater in Basel, Switzerland. He has appeared in leading roles with the Pimlico, Kentish, New Sussex and Surrey Operas and at the Oxford & Cambridge Musical Club.
He has performed at Glyndebourne, the Royal Opera House,Covent Garden, and with the Nationale Reisoper in Holland,not to mention Arena Productions of Carmen and Aida in England, Switzerland and Germany. He was also in the ensemble for a year in the co-production by Opera North and the Royal Shakespeare Company of Showboat in which he also covered the role of Jake (the pianist) at the Palladium and on National Tour.
His roles include Tamino, Belmonte, Idomeneo, Idamante, Ernesto, Lionel, Rodrigo (Otello) both Verdi and Rossini, Barinkay, Edmund, Canio, Jupiter, Turiddu, Remendado & Dancairo, Bardolph & Dr Caius, Adolar (Euryanthe), Sinovi, Wilhelm, Eisenstein, Auctioneer (The Rakes Progress), Amaryllus (The Poisoned Kiss), Prologue and Peter Quint (The Turn of the Screw), Black Wedgewood Teapot (Ravel - L'Enfant), Hermann (The Queen of Spades),The Prince (Rusalka),Hoffmann (The Tales of Hoffmann), Male Chorus (The Rape of Lucretia) and the tenor solos in Carmina Burana and Catulli Carmina.
In Oratorio he has sung as Tenor Soloist in The Messiah, Judas Maccabaeus, Solomon, Mozart's Requiem, Elijah, The Creation, The Dream of Gerontius & King Olaf, A Child of our Time,The Bells (Rachmaninov), The Crucifixion, Hiawatha, Hodie (R V-Williams), Lelio & Requiem (Berlioz),Petite Messe solennelle (Rossini) and both arias and Evangelists in the Bach Matthew and John Passions, the Christmas Oratorio and Magnificat. Also The Silver Lake (Kurt Weill).
Alan has been teaching privately in Croydon since 1993 and is also a Visiting Tutor at South Thames College in Wandsworth and Balham
He is an experienced Church Organist, playing regularly in South Croydon, Bromley, Catford, Clapham, Dorking and East Finchley and is available for Weddings, Funerals and other services. A Member of ISM.
Jenny Albon GGSM ALCM QTFE MIfL
Jenny is a Soprano Singer , Pianist and Accompanist, Teacher of Piano, Singing and Musical Theory.
After gaining an ALCM in piano, Jenny Albon graduated from the Guildhall School of Music and Drama in piano and singing. She has taught piano for many years to people of all ages , and her work as an Adult Education College Music Tutor makes her particularly well qualified to teach the more mature student or older re-starter. She has considerable experience in preparing students for Associated Board examinations at all grades. A special claim to fame is an average of 90% (Distinction) for students entered for the dreaded Grade 5 Theory !
She regularly accompanies instrumental colleagues' students in their exams and offers a package which includes training for the exams' aural tests.
Jenny has been Musical Director/Assistant/Repetiteur for over 40 musical theatre shows in the South London area, and is happy to teach lighter styles of music and keyboard harmony and notation. A Member of the ISM Music in Education and Private Teacher Sections.
Susan Bishop BSc Mus (Hons)
Sue Bishop - Clarinettist - leads a busy musical life as both performer and teacher. She is a member of numerous chamber ensembles, visiting venues throughout Britain and Europe regularly. Her concerts have taken her to 11, Downing Street, a chateau in Normandy, an art gallery in Burgundy and a 7th century church in East Germany. She particularly enjoys presenting innovative programmes, including an extensive repertoire of East European chamber music under the umbrella "East meets West". Sue also undertakes freelance orchestral work and has performed a number of concerti.
Since completing her studies at the City University and the Guildhall School of Music and Drama, she has furthered her studies with the Hungarian virtuoso Kalman Berkes. She was also invited to take part in an international masterclass series given by Karl Leister in Berlin.
In addition to her work as a performer, Sue teaches at a number of schools in the South-East, including St. Paul's Cathedral School. She also coaches various student chamber ensembles.
David Giles CT ABRSM
David Giles - Violinist and Viola Player, Teacher of Violin, Viola and Musical Theory.
He studied at Goldsmiths' College and with Leonard Smith at Trinity College, London.
David has a wealth of experience teaching pupils both individually and in groups, initially as a member of the Inner London Education Authoritie's panel of peripatetic instrumental tutors and subsequently in schools in Southwark, Lewisham, Greenwich and Croydon, since 1975. Apart from his playing freelance for various orchestras and operatic societies, his work includes directing string workshops, orchestras and ensembles. A member of the Musician's Union and ESTA - European String Teacher's Association.
Tim Duce BSc Psychology (Hons) Lond.
Tim Duce - teacher of electric & acoustic guitar.
I teach electric and acoustic guitar and tailor my approach to YOU. Every person is unique and I believe it is vital to discover the music that YOU LIKE. My pupils enjoy this approach,and I enjoy it because it helps them develop more quickly. Grades 1-8 syllabus undertaken if required.I have taught in Adult Education, Further Education, Secondary Education and with Pre-Schoolers.
I have worked as a musician in Europe and in the UK, performing and recording with internationally acclaimed Ghanaian Master Drummer Mario Bayor Diekuuroh, Rock Artist Margo Random, Jazz Pianist and Arranger Bob Stephenson, Reggae Artist Eddie Capone, celebrated Swing and New Orleans clarinetist Norman Cook and performed with and written arrangements for Boddhisattvas of the Beat (featuring Harry Becket, Anne O'Dell and Geoff Paladino) and with my own band.